May 13, 2015
New director of the Master of Science in Community Development Program appointed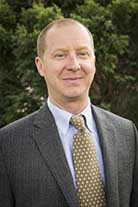 Huston Gibson, assistant professor in the landscape architecture and regional & community planning department, has been appointed director of the Master of Science in Community Development Great Plains Interactive Distance Education Alliance distance program.
The degree is offered by a consortium of five universities through the alliance, providing access to the best educational opportunities by collaboratively developing and delivering high quality, online academic programs.
"The Master of Science in Community Development's online format appeals to busy professionals who want to advance their existing careers in community development or follow new career paths," said Stephanie Rolley, department head. "Many pursue the degree while balancing demanding work, volunteer and family schedules."
As director of the program, Gibson will serve as an initial and consistent contact point for students in the program. He will provide initial interest discussions; work with students and the landscape architecture and regional & community planning department academic advisor to develop programs of study; and oversee students' final examinations and serve on master's report/thesis committees.
"A past student in one of Dr. Gibson's community development classes noted that she appreciated that he was organized, accessible, helpful while leading her to find her own conclusions and think critically," Rolley said. "Those are the very qualities that ensure that he will serve our students well as the director of the community development program. His attention to student learning and their progression to fulfilling career opportunities makes him ideally qualified for this position."
Gibson will regularly teach courses in the core program, as well as instruct special topics courses. As the program director, he will represent K-State community development faculty in alliance meetings and curriculum decision-making, and be responsible for program recruitment.
"I consider myself extremely fortunate to serve in the institution of higher learning," Gibson said. "In particular, it's rewarding to see students get excited about the scholarship of communities, and then matriculate into professionals who help make our communities stronger."