May 13, 2015
Annelise Nguyen makes historic trip to Vietnam to promote K-State admissions, academic research collaborations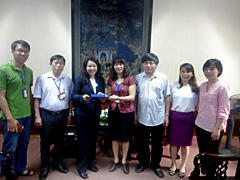 A trip home has turned out to be an historic first for the Kansas State University College of Veterinary Medicine. In April, Annelise Nguyen, a toxicologist in the College of Veterinary Medicine who was born in Vietnam, presented a research seminar at the Vietnam National University of Agriculture, or VNUA. It was the first visit by a faculty member who was officially representing the College of Veterinary Medicine. In addition to the seminar, she toured the K-State recruiting office in Hanoi.
At the Vietnam National Agricultural University, Nguyen shared the history, resources, facilities, organizational structure, student enrollment and other general information about the College of Veterinary Medicine. She also discussed steps and essential activities to promote collaboration on training and research that could be of mutual interest, particularly in veterinary medicine.
Nguyen shared her own research in a seminar related to a patent she recently received for collaborative work at K-State on cancer-fighting synthetic compounds with Duy Hua, university distinguished professor chemistry, and Dolores Takemoto, professor emeritus of biochemistry.
"The content of my talk at the VNUA was about cancer cells that exhibit many defects in intracellular and intercellular communication," Nguyen said. "I explained how our results show that substituted quinolines have successfully prevented tumor formation in mouse models with mammary tumors."
Nguyen and faculty at the Vietnam National University of Agriculture are working on a joint grant proposal for a Vietnam Inclusion Innovation Project. The project is funded by the State Bank of Vietnam and the World Bank in providing $55 million in credit to improve the quality of life. The focus is to provide affordable technological solutions in traditional herbal medicine, information/communication technology applications and agricultural/aquaculture technologies.
Nguyen's trip helped to serve an admissions purpose. She noted that prospective students in suburban and rural areas of Vietnam have difficulty in traveling to the K-State Office in Hanoi. She suggested video-capturing software would be able to create multiple modules of instruction for prospective students who are interested in K-State.
"One of the most important factors in considering a location for studying abroad for both parents and prospective students is the ability to connect with other Vietnamese students," Nguyen said. "As part of the recruiting stage, a showcase of the K-State Vietnamese Student Association's activities and community could be provided to the Hanoi office. Existing videos of student's opportunities during their four years at K-State could be translated to promote the value of the university that goes beyond classroom education."
Nguyen's trip to Vietnam was funded by an incentive grant from K-State's Office of International Programs.