September 29, 2014
Shawna Jordan: "I give because ________."
Submitted by Susan Wolf Berhow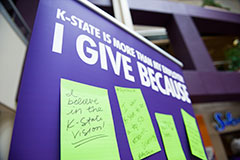 Note: Throughout this year's All-University Campaign, we will be sharing stories about why faculty and staff give. Here's one of many stories we've collected on the All-University Campaign website.
Shawna Jordan gives through the All-University Campaign because it enables her to assist in the development of the students and faculty she loves greatly.
"The All-University Campaign allows you to make a difference in the areas you're passionate about," says Jordan. "There are so many ways to contribute and truly make a difference for the K-State family."
Jordan is just one faculty/staff member who supports K-State through the All-University Campaign. Join her and help advance K-State!
Why do you give to the All-University Campaign? Tell us on Facebook or on Twitter using hashtags #IGiveBecause and #KStateAUC.