September 29, 2014
Entomology department gets rid of unwelcome pests
Submitted by Communications and Marketing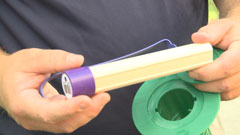 Typically, the Kansas State University entomology department is proud of its insect collection, but now the department is pleased to report that some unwanted guests have finally left the building.
For more than 25 years, the staff at Waters Hall has been trying to get rid of termites. When they began invading research laboratories, John Ruberson, professor and head of the entomology department, knew they had to take action. But it took a special approach, since pesticide application could kill other insects being used for research.
In August 2013, American Pest Management placed bait stations containing the Sentricon System, a trademarked bait system manufactured by Dow AgroSciences, around the outside of Waters Hall. A year later, the entomology department is reporting good news — they haven't seen any termite swarms this year.
"This was one of the buildings on campus with the largest amount of termite infestations," said John Woods, director of facility services for the university. "Recent checks of the bait station showed hits, meaning termites had been eating the bait."
The environmentally-friendly bait stations contain a growth regulator that is specific to termites. This regulator interferes with the termite's growth hormones, causing it to molt improperly and die.
Dow AgroSceinces donated the supplies and American Pest Management donated its services to install the bait systems and monitor the systems for two years. The bait systems are also being used as a teaching tool for entomology students