September 29, 2014
Education faculty members save students $74,000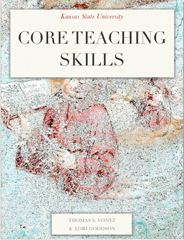 Two College of Education faculty members created one iBook, which over the 2014-15 school year will save preservice teachers $74,000.
Thomas Vontz, professor of curriculum and instruction, and Lori Goodson, assistant professor of curriculum and instruction, developed the iBook "Core Teaching Skills" that replaced three textbooks costing $216 in the courses EDEL 320 Core Teaching Skills and Lab and Core Teaching Skills and Field Experience/Lab. Combined, the courses average 343 students per year.
The educators created a discussion board on their Canvas course sites and received an extensive amount of useful suggestions — criticisms and compliments — that were used in making revisions.
"This iBook allowed us to focus on specific elements that we believe are critical for our students to understand about their future careers in teaching," Goodson said. "We were able to use the iBook during the summer semester, a full semester before we'd planned on rolling it out. That gave us extra opportunities to receive student feedback."
Vontz said his biggest surprise was how easily the book came together.
"We were able to find excellent resources for all of our big ideas," he said. "Although there are areas we differentiate teaching strategies between elementary and secondary education, most of the book is about principles of great teaching that apply at every level. The real challenge was selecting the best resource for a particular section — a video, a journal article or a graphic."
The Open/Alternative Resource initiative is part of the college's technology plan — a key component to achieving its K-State 2025 objectives and philanthropic goals. In 2013, Dean Debbie Mercer provided all full-time teaching faculty with an iPad along with professional development opportunities. In 2014, the college provided iPads for all preservice teachers in their professional courses.