September 29, 2014
K-State Alumni Association dedicates KSU Obelisk at K-State Alumni Center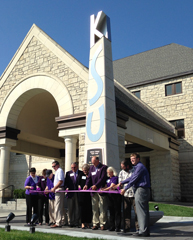 Hailing it as a symbol of the pride and loyalty of Kansas State University alumni and friends, officials of the K-State Alumni Association dedicated a new campus monument, the KSU Obelisk, during a ceremony Sept. 20 at the K-State Alumni Center.
Located at the east entry of the Alumni Center near the intersection of Anderson Avenue and 17th Street, the KSU Obelisk is an 18-foot, limestone and stainless steel sculpture that represents the K-State Alumni Association's mission to preserve and share university traditions. It features the K-S-U letters, which are a prominent chant in the K-State fight song, "Wildcat Victory," and two bronze plaques depicting the words of both the fight song and K-State's alma mater. Two sides of the monument are adorned with Wildcat paw prints in recognition of the university's mascot.
The KSU Obelisk was made possible through a gift from Dan and Cheryl Yunk, Manhattan. Dan Yunk, who earned degrees from K-State in 1971, 1975 and 1987, is the former executive director and CEO of Kansas Farm Bureau. He serves as executive director of the Kansas Educational Leadership Institute and also is a member of the K-State Alumni Association board of directors. Cheryl Yunk, who earned degrees from K-State in 1972 and 1979, is a retired educator for the Manhattan-Ogden School District.
"K-State has been such a significant part of our family for many years, and we wanted to help create a place where alumni and friends can return to campus and reflect on what K-State has meant to them," Dan Yunk said. "The KSU Obelisk is a wonderful addition to the other iconic landmarks on campus that reflect the rich history and legacy of K-State."
The KSU Obelisk was constructed and installed earlier this year by Compton Construction Co. in Wichita, owned by K-State alumni Gib Compton, a 1980 graduate, and Brenda Compton, who graduated in 1977.
It was designed by Salina artists Richard "Dick" Bergen, a 1963 K-State graduate, and his son, Richie Bergen, who earned degrees from K-State in 1986 and 1998. Dick Bergen has created many sculptures that adorn the K-State campus, including the bronze Wildcat statue on the Johnson Terrace on the north end of the Alumni Center.
Amy Button Renz, president and CEO of the K-State Alumni Association, expressed appreciation to the Yunk family for their support, which made the statue a reality.
"Since the Alumni Center opened in 2002, we dreamed of adding a feature that shared the history of our alma mater and the K-State Fight Song," Renz said. "Dan, Cheryl and their family enthusiastically supported this vision, and today we celebrate what has fast become a new photo opportunity on campus and a monument that will stand as a legacy of our heritage for future generations."