April 9, 2014
Living the Wildcat Way: Amanda Taylor speaks out against texting and driving
Submitted by Communications and Marketing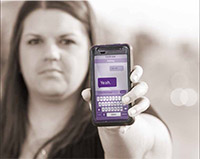 Amanda Taylor is an administrative specialist in the Graduate School. She's also a Wildcat who found her voice and is speaking out against texting while driving.
Amanda is another K-Stater who is living the Wildcat Way. Learn more about her story, and share it with others to tell them what it means to be a part of the K-State family and live the Wildcat Way.
Do you live the Wildcat Way or know someone who does? Tell us!