April 9, 2014
Award-winning illustrator Kadir Nelson to speak on Saturday, April 12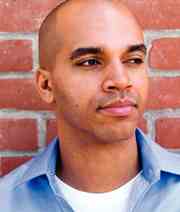 Award-winning illustrator Kadir Nelson will be the keynote speaker for the fourth biennial Interdisciplinary Conference on Children's Literature in English, Education and Library Science, which is from 8:30 a.m. to 2:30 p.m. Saturday, April 12, at the Kansas State University Alumni Center.
Acclaimed for his illustrations for young readers in "We Are the Ship: The Story of Negro League Baseball," "Henry's Freedom Box: A True Story from the Underground Railroad," and "Nelson Mandela," Nelson has won many awards, including two Caldecott Honors, the Coretta Scott King Award and an NAACP Image Award. In addition to children's book illustrations, he also has produced album art for Michael Jackson and Drake, and cover art for The New Yorker.
"Versatile, prolific and immensely talented, Kadir Nelson is one of America's great contemporary artists," says Philip Nel, university distinguished professor of English and director of the program in children's literature. "He's the creator not only of many award-winning children's books, but also of U.S. postage stamps, magazine covers, paintings and album covers. Indeed, he also may be the only children's authors to count both Drake and the late Michael Jackson among his fans."
"I've long been an admirer of his work, and I'm thrilled that he's coming to speak at K-State," Nel said.
Melissa Hammond, co-president of the Children's and Adolescent Literature Community, agrees.
"We are so lucky to hear Kadir Nelson deliver the keynote speech for this year's conference" she said. "His illustrations are stunning — richly-detailed characters climb right out of the page and bring his stories to life. Anyone interested in art, children's books, or African-American history will not want to miss this event."
This year's conference theme is "Drawn Together: Celebrating Racial Diversity in Children's Literature." In addition to Nelson's keynote lecture, the conference features presentations by Vicki Sherbert, assistant professor in education; Melendra Sutliff Sanders, children's consultant at North Central Kansas Libraries; and three English graduate students.
The conference is free and open to students, faculty and community members, but space will be limited, so advance registration is highly recommended.
The conference is sponsored by the Children's and Adolescent Literature Community, the English department, the Student Governing Association Diversity Programming Committee and the Black Student Union.