April 9, 2014
K-State men's soccer team wins regional tournament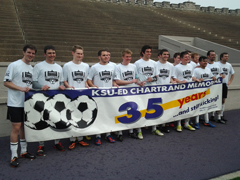 The K-State men's club soccer team won first place at the 35th K-State Ed Chartrand Memorial Soccer Tournament. This annual tournament hosted during the K-State open house featured eight men's and four women's teams, including Texas Tech, University of Oklahoma, Truman State, Creighton University, Southern Illinois, University of Kansas and Emporia State University.
The championship match played at K-State Memorial Stadium on Sunday featured the K-State men's club playing Truman State to a 1-1 tie in regulation. The match and championship was decided by penalty kicks.
Thanks to the men and women of the K-State soccer clubs for organizing and hosting a very successful tournament. This event also was supported by Fort Riley's 151 Unit, 1st Battalion, 5th Field Artillery Regiment.
More information can be found on the tournament website.