Kent Glasscock
President, Kansas State University Institute for Commercialization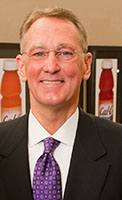 Kent Glasscock is the president of the Kansas State University Institute for Commercialization, or KSU-IC. The institute helps monetize intellectual property developed at Kansas State University, Wichita State University and MRIGlobal in the international marketplace.
Glasscock is responsible for developing strategies to create sustainable technology-based business and wealth creation in rural and underserved urban America. This is achieved through the acquisition of market-grade technologies that are made available on a national basis, in conjunction with supportive entrepreneurial services.
Under Glasscock's leadership, the Institute for Commercialization has generated nearly $165 million in new revenue in Manhattan and each month brings in about $1 million in revenue to the area. Licensing efforts also have generated approximately $12 million in direct revenue back to Kansas State University.
Ingram's magazine named Glasscock one of its "50 Kansans You Should Know" for 2012. In 2010 he was selected as part of the transition team for Kansas Gov. Sam Brownback.
Prior to joining KSU-IC in 2003, Glasscock spent 16 years in public office, including 12 years in the Kansas House of Representatives. He also has a long career in entrepreneurship and still serves as chairman and CEO of his family retail lumber and construction businesses operating in Missouri, Iowa and Kansas.
He can be contacted at 785-532-3900, kentglas@k-state.edu.