President Richard B. Myers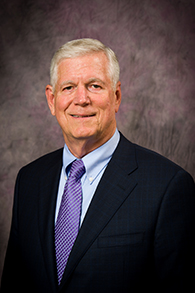 Retired U.S. Air Force General Richard B. Myers was selected as interim president for Kansas State University in April 2016 by the Kansas Board of Regents. On Nov. 15, the Board of Regents officially named Myers the 14th university president. Myers is chairman of the Kansas State University Foundation Board of Trustees and a Foundation professor of military history and leadership. He and his wife, Mary Jo, serve as co-chairs of the Innovation and Inspiration Campaign.
Born and raised in Merriam, Kansas, Myers received his bachelor's degree in mechanical engineering from Kansas State University in 1965 and a master's degree in business administration from Auburn University in 1977. He is a retired four-star general in the U.S. Air Force and served as the 15th chairman of the Joint Chiefs of Staff from 2001 to 2005. As chairman, Myers was the highest-ranking uniformed officer of U.S. military forces and served as the principal military adviser to the president, secretary of defense and National Security Council.
The university's Gen. Richard B. Myers Hall, home to the Army ROTC and Air Force ROTC programs, is named in his honor. Myers presented the 118th Landon Lecture at Kansas State University in 2000.