Amit Chakrabarti
Professor and head of the department of physics
William and Joan Porter chair in physics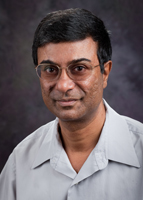 Amit Chakrabarti was named head of Kansas State's department of physics and the William and Joan Porter chair in physics in July 2011.
Chakrabarti is a theoretical physicist with interests in soft matter and statistical physics.
He has worked on diverse soft-matter systems, including liquid mixtures, polymers, liquid crystals, aerosols, colloids, nanoparticles and most recently, self-assembly of proteins.
Chakrabarti's research is curiosity-driven and focuses on how particles in a dispersed phase come together and form aggregates. His individual and collaborative research projects have received extramural funding from agencies such as NASA and the National Science Foundation.
Chakrabarti is presently collaborating with several K-State faculty on projects that have been funded by the K-State Targeted Excellence Program, NASA and the National Science Foundation.
One of his research collaborations is with Jim Gunton, a professor at Lehigh University, to understand how insulin crystals form from aqueous solutions. Insulin is an important drug in the treatment of diabetes; understanding the process of microcrystal formation is important for developing new methods of drug delivery. Chakrabarti also is working on fiber formation in sickle cell hemoglobin, the mutant form of hemoglobin responsible for sickle cell anemia.
Chakrabarti received K-State's 2009 Commerce Bank Distinguished Graduate Faculty Award, which recognizes quality research and advising of graduate students. He also received the Presidential Award for Excellence in Undergraduate Teaching in 2002, and is a two-time winner of the Stamey Award for Teaching Excellence from the College of Arts and Sciences.
Chakrabarti has a doctorate in physics from the University of Minnesota, and master's and bachelor's degrees in physics from the University of Calcutta, India. He joined K-State in 1990 and was named a full professor in 2000. He served as interim head of the department of physics in 2006-2007.
Chakrabarti has published more than 100 peer-reviewed papers and mentored eight doctoral students and several postdoctoral fellows.
He can be reached at 785-532-1625 or amitc@k-state.edu.