August 22, 2022
A greeting from K-State President Richard Linton
Submitted by President Richard Linton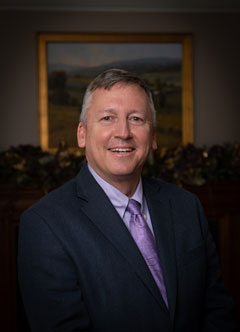 Happy first day of the fall 2022 semester! Whether you're a returning Wildcat or new to the university this year, we are so glad that you are here and part of the K-State community.
The start of the fall semester is always my favorite time of the academic year. Our campus communities are buzzing with energy, excitement and anticipation for new experiences and treasured traditions. I was fortunate to visit with many of you on the Manhattan campus over the weekend, both at Saturday's pancake feed at Memorial Stadium and at New Student Convocation just last night. Your enthusiasm for the year ahead is unmistakable — and I want you to know I share that same enthusiasm with you. This university is a special place, and each and every one of you is a part of that.
As we begin this new academic year together, I wanted to offer a few key pieces of advice to help kick things off:
Always strive to keep your balance. At K-State, the opportunities are truly endless. In addition to your coursework, you can join student organizations, work and engage in internships, participate in research activities, play intramural sports, socialize with friends new and old, and so much more. What's key to thriving is finding the balance that's right for you. Try new things and experience all the best of K-State, but make sure you also keep your personal well-being a priority along the way. And know that we have people at K-State here to help you do just that!
Ask for help whenever you need it. There are numerous resources available to you as a K-State student. Whether you need some extra help with a class, assistance with your personal budget, or something as simple as finding someone to talk to, you have faculty, staff and fellow students throughout this community who want to see you happy, healthy and successful. Never hesitate to raise your hand — help is always one Wildcat away.
Be the support someone else needs. As Wildcats, we take care of each other. I've talked about the resources and people who are here for you, but I believe we all have a personal responsibility to be that person for someone else too. So, look out for one another — that's the K-State way.
Your college years will be some of the most memorable of your life. You will learn so much — both within the context of your coursework and also about yourself. Enjoy this time, and take every ounce of what you learn to be the best person you can be.
Go 'Cats!
President Richard Linton