August 22, 2022
Looking ahead in the Diversity Programs Office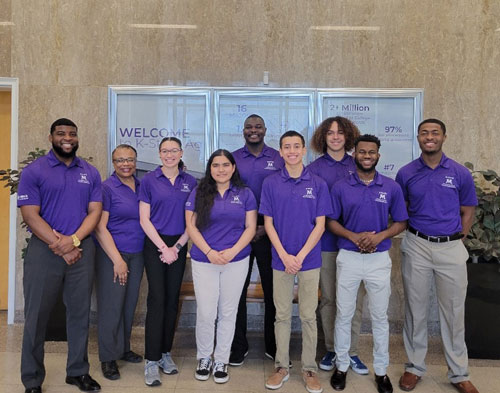 Welcome back!
We trust you are all ready to start classes again and be welcomed back to campus. As the fall semester starts, the K-State College of Agriculture/K-State Research and Extension Diversity Programs Office and the K-State Minorities in Agriculture, Natural Resources, and Related Sciences, or MANRRS, Chapter invite you to join us for our fall events.
To start the semester, K-State MANRRS participated in the Center for Student Involvement Officer Retreat on Aug. 21 and is participating in numerous upcoming campus events, including Project IMPACT Student Convocation on Aug. 23; K-State Diversity and Multicultural Student Affairs Open House on Aug. 24; K-State Activities Carnival on Aug. 25; the Black Student Union Barbeque on Aug. 27; and the College of Agriculture Watermelon Feed on Aug. 30. Additionally, K-State MANRRS will have its Executive Board Retreat on Aug. 23, with Rina Neal, city of Manhattan director of finance, to facilitate the session hosted by Frontier Farm Credit. Finally, at the end of August, join us for the first K-State MANRRS General Body Meeting of the year at 6 p.m. Aug. 31 in 137 Waters Hall to learn about how our K-State MANRRS students spent their summers and to join our chapter.
In September, we are hosting a Career Readiness Workshop from 6-8 p.m. Sept. 7 in the Morris Family Multicultural Student Center. The event will feature a round-robin workshop with different stations to discuss resumes, cover letters and general application questions. The event is in partnership with Frontier Farm Credit, K-State MANRRS, Project IMPACT and the K-State Career Center. At 6 p.m. Wednesday, Sept. 14, Rodney Young, assistant plant manager at Ardent Mills, will build upon these skills by discussing "How to Research a Company" at the General Body MANRRS Meeting. All these events will help to prepare students for the All-University Career Fair on Sept. 20.
On Sept. 13, John Deere Co. will facilitate a session regarding the "Importance of Diversity in the Workplace" with College of AG Student Leadership — i.e., K-State MANRRS, College of AG Ambassadors and AG Student Council — at the Fall 2022 Student Leadership Diversity Workshop at 5:30 p.m. in 137 Waters Hall or Zoom ID: 944 1038 7413.
During Sept. 19-23, join us in celebrating K-State MANRRS Week. MANRRS Week will feature a Membership Drive on Sept. 19; International Postdoctoral Student Panel on Sept. 20; the MANRRS Corporate Showcase on Sept. 21 featuring Ardent Mills, Cargill, Merck Animal Health, Smithfield Foods; a K-State MANRRS Fundraiser on Sept. 22; and the Fall 2022 K-State MANRRS Book Panel in partnership with K-State First Book on Sept. 23. Please look for more details regarding these events — such as times, locations, etc. — at a later date.
Finishing September's events, Zelia Wiley, assistant dean and director, and Summer Santillana, Diversity Programs Office coordinator, will travel to Kansas City, Missouri, Sept. 26-28 to present a poster during the Urban Food Systems Symposium. The poster, "Building Coalitions for a Changing World through Underrepresented Youth Education Programs," will highlight the JR. MANRRS summer programming efforts during 2021 and 2022.
Other notable events throughout the semester include the Michael Tilford Conference on Oct. 7; the 11th biannual "Growing our Mindset" Diversity Forum at 5:30 p.m. on Oct. 11, facilitated by Ryan Locke, FMC Corporation industry relations manager; the MANRRS Regional Cluster on Oct. 14-15 in Dallas, Texas; and the KSRE Navigating Difference Training on Nov. 8-10. All are welcome to these events, so please join us throughout the semester. Location and meeting details will be published at a later time.
Please continue to look for more diversity news and events that we publicize. If you require any additional information about these events or to collaborate with the Diversity Programs Office, please contact Wiley at zwiley@k-state.edu or 785-532-5793. Stay up to date by following our social media: Facebook and Instagram.