February 15, 2022
New K-State Global Food Systems podcast episodes now available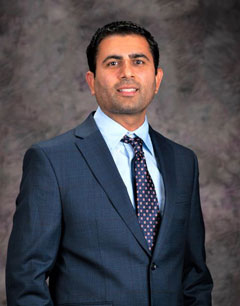 After a brief hiatus, the K-State Global Food Systems podcast "Something to Chew On" is back for 2022. This series allows listeners to meet the faculty, learn more about what makes them tick, the passion they bring to their critical research and gain a better understanding of the complexity of the food system.
Joining us for this year's premiere of "Something to Chew On" is Vipan Kumar in the featured episode, "Diversity is the key to sustainability: Challenges and opportunities in the field of weed science."
Kumar is the North Central Weed Science Society 2020 outstanding young scientist, and studies weed control in the production of commodity crops in the K-State Agricultural Research Center in Hays. In the podcast, Kumar discusses techniques that could reduce herbicide-resistant methods of farming. He also talks about climate change and why weeds are the first to adapt.
There are currently more than 40 episodes of "Something to Chew On" with listeners in more than 80 countries. Listeners can subscribe and download new episodes every two weeks to hear what researchers in the wide scope of global foods research are doing at K-State. Join in the conversation by sending in questions and comments to gfsseedgrant@k-state.edu.
Check out the Global Food Systems website for more information about the initiative at K-State.