February 15, 2022
Eric Shappee and Amy Elswick recognized as Professor and Professional Staff of the Week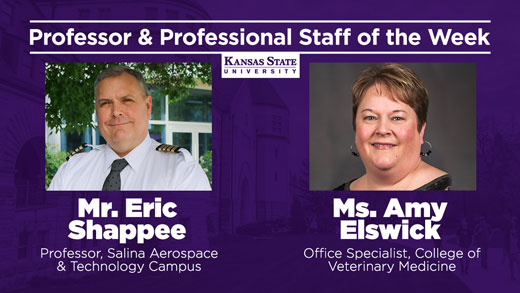 Eric Shappee, professor of aviation at the K-State Salina Aerospace and Technology Campus, and Amy Elswick, administrative assistant in the clinical sciences department in the College of Veterinary Medicine, were recognized as Professor and Professional Staff of the Week at the Feb. 14 men's home basketball game.
Faculty Senate, the Office of the President, K-State Athletics and the Division of Communications and Marketing wish to recognize their contributions to K-State.
Shappee is the recipient of the 2021 Marchbanks Memorial Award for Teaching Excellence, which honors faculty members with exemplary service to students, commitment in the classroom and overall excellence in teaching. Shappee has been active in aviation for more than three decades and has been teaching since 1995. His passion for aviation and teaching philosophy fosters an enjoyable, exciting environment where students thrive.
Shappee began his career at K-State Salina in 2000 and has served as director of flight operations, acting department head and professional pilot program lead for aviation. He teaches numerous courses, including Introduction to Aviation, Aviation Safety, Human Factors in Aviation and Aviation Accident Investigation. Shappee's primary focus is aviation safety. He has developed several risk assessment tools for not only K-State but other aviation organizations.
"Eric consistently receives high evaluations from students, ensures their academic success and offers support when they transition into the aviation program," said Alysia Starkey, K-State Salina CEO and dean. "Eric's ability to always look ahead is evident, especially since he was one of the first instructors on campus to experiment with online instruction and has since created dynamic online learning tools that closely mirror the in-person learning experience."
Elswick has served the College of Veterinary Medicine and the faculty within the department in innumerable ways during her time at K-State. Elswick is considered the go-to resource for a wide array of questions, concerns and task requests from the faculty she helps support. From organizing the complex schedules of professional students in clinical rotations of veterinary school to providing minutes for departmental faculty meetings, there is really no limit to the shapes and styles of the various hats Elswick wears from day to day.
She is organized, thoughtful and considerate in her interactions with fellow staff in the department office, and she has a seemingly effortless ability to support busy faculty as they navigate everything from scheduling mentoring meetings to preparing materials for promotion and tenure. If anyone in the department needs an answer, Elswick is the first person to seek out. For these and countless other reasons, Elswick is truly worthy of recognition as Professional Staff of the Week.