February 18, 2020
Wildcat Offroad Team wins awards at Winter Baja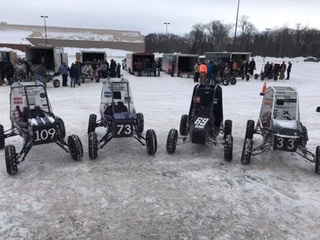 The Wildcat Offroad Team, also known as the Baja SAE Design Team, a registered departmental student organization, recently competed in Michigan Tech's Winter Baja.
The group brought 16 members and four cars to Houghton, Michigan, for a four-hour endurance race against many other universities.
The race took place on Michigan Tech's campus on snow piles that were more than 10-feet tall. The makers of the track added a new joker lane, consisting of a 6-foot drop, in this year's race, which enabled a good portion of the track to be bypassed. They also added an award for "The Biggest Send," which was given to the team who consistently chose the joker lane. Bryce Parker, senior in mechanical engineering, went off the jump the most and earned the award for the team. Parker also recorded the fastest lap time, 2 minutes and 16 seconds, using the joker lane.
The team will go to another competition in Tucson, Arizona, later this academic year.