February 18, 2020
Recruiting participants for virtual reality experiment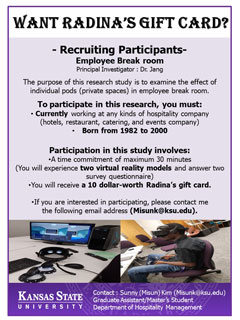 Researchers in the hospitality management department are conducting a study to examine the effect of individual pods — private spaces — in an employee break room.
To participate in this research, you must:
Currently work at any kind of hospitality company: hotels, restaurant, catering and events.
Born from 1982 to 2000.
Participation in this study involves a time commitment of maximum 30 minutes. Participants will experience two virtual reality models and answer two survey questionnaires. You will receive a $10 Radina's card for your participation.
If you are interested in participating, please contact Sunny Kim, graduate assistant and master's student in hospitality management, at Misunk@k-state.edu.
This study has received IRB approval No. 9852.1.