March 25, 2019
'Spotlight on English' showcases undergraduate research, activities for the K-State campus community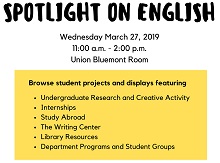 What can you do as a major or minor in English?
Undergraduate students in English will answer that question as they share their work with the campus community from 11 a.m. to 2 p.m. Wednesday, March 27, in the K-State Student Union Bluemont Room.
A series of poster sessions will feature undergraduate research and creative activity, internships and study abroad experiences, including "The Shakespearean Travel Guide" by Jacinta Mioni (BA '19), "Adapting the Internship" by Macy Davis (BA '19), and "Anchor, Compass, and Sail: The Black Panther Party in African-American Children/Adolescent Fiction" by Savannah Winkler (BA '19). Information about programs and student organizations in English, resources at Hale Library, and the Writing Center will be available throughout the event.
In addition to browsing poster displays, visitors can practice writing with a quill as Shakespeare did, create poetry, play word games, contribute to an on-going Scrabble game, and enjoy refreshments from Varsity Donuts and Radina's.
All undergraduate students who attend are encouraged to complete a Spotlight Scavenger Hunt, drawing on knowledge from the poster sessions and K-State Libraries, for a chance to win one of two $300 scholarships for the current spring semester.
"Spotlight on English showcases diverse work by undergraduate English students," said Naomi Wood, professor and director of undergraduate studies in English. "Whether it's envisioning religious references in Shakespeare as a hidden code in a Lutheran hymnal or tracing the representation of the Black Panther party in children's literature, your interest will be piqued and stimulated and engaged. This interactive come-and-go event is designed to encourage browsing, discovery, creation and play."
For a detailed schedule of undergraduate presenters, view the 2019 program or contact english@k-state.edu.
"Spotlight on English" is sponsored by the English department in the College of Arts and Sciences and K-State Libraries.