March 25, 2019
ATID Showcase of Excellence set for April 25
Submitted by College of Human Ecology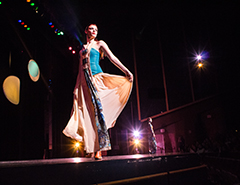 The ATID Showcase of Excellence fashion show and gallery exhibit kicks off the 15th annual Apparel, Textiles, and Interior Design Student Symposium on Thursday, April 25. The theme for the 2019 symposium is "THRIVE!"
The evening features a gallery exhibit, fashion show and awards presentation that reveals the excellent creativity and intellectual work of middle school, high school and K-State students. The event provides students the opportunity to have their work selected to be shown to the public and industry professionals. The gallery exhibit will begin at 6 p.m. and the fashion show will begin at 7 p.m. in the K-State Alumni Center.
We chose the conceptual framework of "THRIVE!" for this year's theme because it represents our focus on improving human well-being. Entry statements for the competition will describe how the submission demonstrates quality of life, happiness, contentment, relationships, social cohesion, human systems or other aspects of human ecology.
The ATID Showcase of Excellence is a ticketed event. Tickets are available for purchase online. For more information about the ATID Showcase of Excellence or other activities during the student symposium, visit he.k-state.edu/atid/events/symposium.