March 1, 2018
Menker named fifth speaker in Henry C. Gardiner Global Food Systems Lecture series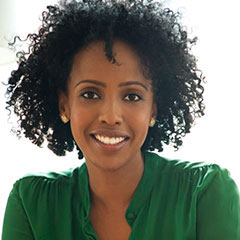 Sara Menker, a native of Ethiopia who quit a prestigious job as a commodities trader on Wall Street to form a company that aims to find solutions to world hunger, has been chosen to be the fifth speaker in the Henry C. Gardiner Global Food Systems lecture series.
Menker will deliver the talk "Why there doesn't need to be a global food crisis" at 7 p.m. Monday, Oct. 8, in Kansas State University's McCain Auditorium. Admission is free, but patrons are encouraged to arrive early because the lecture series typically draws very large crowds.
Menker is the founder and chief executive officer of Gro Intelligence, a technology company that is bridging the information gap in agriculture by providing data that can help farmers and others in the agricultural industry determine the most efficient way to grow food in different regions around the world.
Menker earned degrees in economics and African studies at Mount Holyoke College and the London School of Economics. She also obtained a Master of Business Administration from Columbia University.
Learn more about Menker's background and details about this year's lecture at k-state.edu/globalfood/lecture-series/.
The Henry C. Gardiner Global Food Systems Lecture Series aims to provide science-based education about the global food system. The series allows university students, faculty, staff and Kansas citizens to interact with U.S. and international food industry leaders. Kansas State University and Gardiner Angus Ranch of Ashland, Kansas, initiated the lecture in 2015.