February 27, 2018
ADHD awareness event today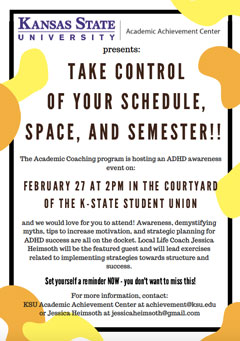 The Academic Coaching program will host an attention deficit hyperactivity disorder awareness event at 2 p.m. Feb. 27 in the K-State Student Union courtyard. The event is aimed at spreading awareness and demystifying myths surrounding ADHD.
Jessica Heimsoth, a local life coach with a specialty in ADHD, will be the featured guest and will lead exercises to implement strategies to achieve structure and success. Attendees also will have the opportunity to hear student testimonials regarding finding success while living with ADHD.
For more information, contact Scott Voos at scottvoos@k-state.edu.