February 27, 2018
Malek wins Emerging Leader Award
Submitted by College of Human Ecology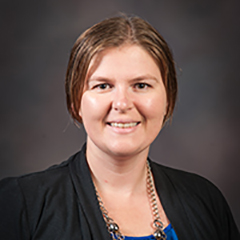 Kristin Malek, assistant professor of hospitality management, received the Emerging Leader Award from the Heartland Chapter of the Professional Convention Management Association, PCMA.
The award is given to an individual who has demonstrated extraordinary service and leadership early in their career. Winners have made exceptional overall contributions to the PCMA Heartland Chapter and its membership.
The PCMA Heartland Chapter serves 175 members from Arkansas, Iowa, Kansas, Missouri, Nebraska and Oklahoma.
Malek is the first faculty member to win this annual award at the regional level.
"Winning this award was completely unexpected, since a faculty member has never won this industry focused award before," Malek said. "When they called my name, it really made me feel like I made a difference in the organization and the community. To see so many people standing and cheering for me, industry professionals and students alike, was surreal."