February 27, 2018
K-State Dance Day 2018 for ages 8 and up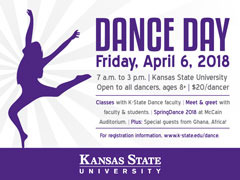 Join K-State Dance faculty and students for K-State Dance Day from 7:30 a.m. to 3 p.m. on Friday, April 6. Students ages 8 and up can participate.
Participates will have the opportunity to take class with the K-State dance faculty and special guest artists from Ghana, Africa. All participants also will have the opportunity to perform live, with African guest artists on the "SpringDance '18" main stage.
Registration information can be found on the K-State Dance Program website.
For questions, please contact Julie L. Pentz at jpentz@k-state.edu.