February 6, 2018
Union Station by JP's grand opening set for March 1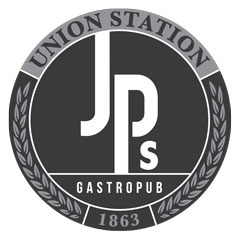 Housing and Dining Services announces the grand opening of Union Station by JP's will be March 1.
The JP's brand is bringing its same great food and service to the K-State Student Union with its new gastropub concept. Located on the first floor of the Union, Union Station by JP's offers excellent views, seating for more than 150, elevated outdoor patio seating and a unique menu of handcrafted items.
Join the department for the grand opening from 3-5 p.m. Thursday, March 1. A short presentation, ribbon cutting and tours of the gastropub will be followed by samples of its menu. At 5 p.m. the gastropub will open for normal business to the K-State campus and Manhattan community.
Union Station's menu was developed around its state-of-the art smoker, which allows it to smoke a variety of meats, cheeses, vegetables and other chef specials. With locally sourced meats and cheeses from Weber and Call halls and freshly baked goods from Housing and Dining Services' Bakery, guests will be able to get a real "taste of K-State." Brick oven artisan pizzas also will be on the menu, along with house-made items like herb- and roasted-garlic-infused olive oil, salad dressings and more.
There's a new spot that you'll love full well and that's Union Station by JP's. With free parking after 5 p.m. and on weekends, Union Station will bring the Manhattan and campus communities together for great food and great service.
Spread the word about the upcoming grand opening through Facebook, Twitter or Instagram for a chance to win an invitation to a soft opening during the last week in February.