February 6, 2018
Kansas Forest Service and K-State Research and Extension-Clark County to host post-fire tree planting workshop
Submitted by Jennifer Williams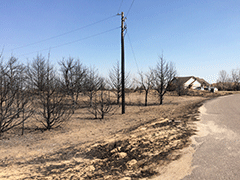 Two issues arose from the raging Starbuck fires last spring. One issue was that some of our trees that are already in short supply were destroyed or damaged in the fire. Another major issue that can restrict the effectiveness of fire officials during a fire is when trees are too close to structures. This can result in loss of the structure and thousands of dollars of property damage.
To address these issues, K-State Research and Extension-Clark County will sponsor "Where do I plant my trees? Looking at fire safety when replanting trees," at 6 p.m. Feb. 20. In the meeting, Jason Hartman and John Klempa from the Kansas Forest Service will cover topics such as defensible space and what type of trees to plant in southwest Kansas.
RSVP by Tuesday, Feb. 13, to Brice Gibson at begibson@k-state.edu or 620-635-2811.
To view all Kansas Forest Service events, visit: http://www.kansasforests.org/events/index.html