February 6, 2018
Metzger to join College of Agriculture leadership team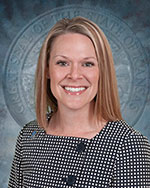 Following a national search, Susan Metzger has been appointed senior executive administrator for the Kansas State University College of Agriculture and K-State Research and Extension. She will assume her new role on March 12.
Metzger currently serves as deputy secretary of the Kansas Department of Agriculture, where she leads the agency's policy evaluation and development related to water and natural resources. Before joining the department, she worked for the Kansas Water Office for 11 years as chief of planning and policy, manager of the watershed coordination unit and as an environmental scientist. She also was instrumental in developing the Vision for the Future of Water Supply in Kansas.
Before moving to Kansas in 2003, Metzger managed the environmental section of a land development and engineering firm in Chantilly, Virginia. She earned a bachelor's degree from the University of Mary Washington and a master's degree from Old Dominion University, both in biological sciences.
Metzger will work directly with John Floros, dean of the college and director of K-State Research and Extension, and his senior leadership team to continue the organization's success in teaching, research and extension.
"I am delighted to have Susan join our team," Floros said. "She brings a wealth of experience related to agriculture, water and other environmental issues important to Kansans. Her experience communicating with Kansas legislators and agricultural stakeholder groups will be an asset as she represents K-State at various events. Susan's outstanding management and organizational skills make her an excellent choice for this position."
She is on the board for Servicemember Agricultural Vocation Education and Certified Crop Advisors. In 2015, she received the Commander's Award for Public Service from the Department of the Army, and Kansas State FFA awarded Metzger with an Honorary FFA State Degree in 2017.
"Joining the College of Agriculture and K-State Research and Extension is an exciting opportunity for me," Metzger said. "I look forward to serving the agricultural community in this position — building and maintaining current relationships and establishing new partnerships."
She replaces Steven Graham, who retired in June 2017 after serving as assistant to the dean and director for more than 20 years.