April 5, 2017
Thurston publishes journal article about social justice initiative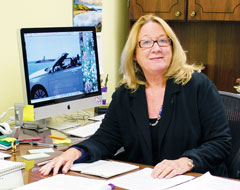 A social justice project initiated by the College of Education that included the K-State campus and Manhattan community is now the subject of a journal article authored by the program's creator.
Linda P. Thurston, associate dean for research and graduate studies and Lydia E. Skeen endowed professor, wrote "Not a Year of Social Justice Education: A University-Community Collaboration to Enhance and Support Social Justice." The article appeared in the eJournal of Public Affairs dedicated to civic leadership for social justice. The publication is produced by Missouri State University and the American Democracy Project.
Thurston's abstract: This article describes an educational initiative originating in a college of education and engaging both the larger university and the community; it examines the role of leadership for social justice through an educational leadership lens and analyzes the role of the university in promoting social justice education across a university-community context. The case study examined in the article, an initiative called "Not Just a Year of Social Justice Education" was a practice in distributed and transformative leadership, community engagement, and informal social justice education. The author explores the theoretical and pedagogical foundations of the initiative and analyzes the case from the perspective of these frameworks. Included are reflections about the role of the university in developing socially just citizens, the process of collaborative community engagement for social justice, and the overt and covert role of leadership that must be both transformative and pragmatic. The author concludes by discussing implications for the development of approaches intended to better promote and support social justice within the context of university-community collaboration.