April 5, 2017
Don't miss the April 6 Landon Lecture and April 5 movie about Martin Baron
Submitted by Division of Communications and Marketing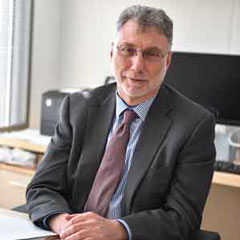 Martin Baron, executive editor for The Washington Post, will give a Landon Lecture at 10:30 a.m. Thursday, April 6, in Forum Hall of the K-State Student Union. In preparation for the lecture, the Union Program Council, or UPC, is hosting a screening of "Spotlight" at 7 p.m. April 5 in the Town Hall of the Leadership Studies Building.
Both the lecture and the screening are free and open to the public.
In addition to leadership at The Washington Post, Baron has led newsrooms at The Boston Globe, The New York Times, The Los Angeles Times and The Miami Herald for a collective 11 Pulitzer Prizes awarded under his leadership. The Washington Post has won Pulitzers for national reporting, explanatory reporting and public service, which included coverage of the National Security Agency's surveillance.
Under Baron's leadership, The Boston Globe received a 2003 Pulitzer for the investigation of the Catholic priest scandal that inspired the 2015 movie "Spotlight." After Baron became executive editor at The Miami Herald, the paper won a 2001 Pulitzer for breaking news reporting of a raid by federal agents to return Elián González to his Cuban father.
Read more information about Baron's upcoming Landon Lecture and the movie "Spotlight."