October 13, 2016
Ebony Thomas to present talk about Harry Potter and race Oct. 14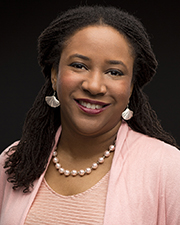 On Friday, Oct.14, Ebony Thomas will offer a public talk on Harry Potter, fantasy and race at 5:30 p.m. in the K-State Alumni Center's Tadtman Boardroom.
Thomas' talk, "Hermione is Black: Harry Potter and the Crisis of Infinite Dark Fantastic Worlds," emerges from her current research on the ways that children and teens of color are represented in early 21st century speculative fiction, comics and multimedia. Other research projects include the teaching of African-American literature, history and culture in K-12 classrooms, and the roles that race, class and gender play in classroom discourse and interaction.
Born and raised in Detroit, Michigan, Thomas taught elementary language arts, high school English and creative writing in public schools for several years after graduating from Florida A&M, a historically black university in Tallahassee, Florida. She earned her master's degree in 19th-century British and American literature from Wayne State University and her doctorate from the University of Michigan's joint program in English and education. She currently serves as assistant professor of education at the University of Pennsylvania.
Philip Nel, university distinguished professor of English and director of the program in children's literature, values the timely perspective that Thomas brings to the study of literature and popular culture.
"Ebony Thomas' groundbreaking work on the Dark Fantastic looks at how fantasy narratives either exclude people of color or fashion them as villainous dark others. She asks big questions about how this affects young minds. What do you imagine when your culture's imagination excludes you?'" Nel said.
"Her work is vital and necessary," Nel concludes, "especially in an era when we are still needing to argue that black lives matter and that we need diverse books."
Thomas' talk is sponsored by the English department and the College of Arts & Sciences Diversity Committee.