October 13, 2016
Kansas State University's personal financial planning team places third at national competition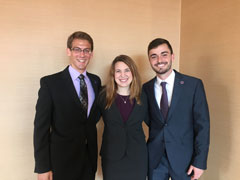 Kansas State University's personal financial planning student team succeeds at the national level again.
The team placed third overall in the Financial Planning Challenge at the 2016 Financial Planning Association national conference Sept. 14-16 in Baltimore, Maryland.
Since the inception of the challenge in 2001, the university's student team has consistently made it to the finals every year.
Team members, all seniors in personal financial planning, are Lindsay Adams, Clay Center; Stephen Phillips, Merriam; and Nolan Keim, Sabetha. The team's adviser is Ann Coulson, a certified financial planner and assistant professor in the School of Family Studies and Human Services, a part of the university's College of Human Ecology.
With third place, the team won a $1,000 scholarship for the personal financial planning program.
"K-State's financial planning team did a great job this year. They worked very hard and their hard work paid off," Coulson said. "This competition is not for the faint of heart — the team estimates that they spent more than 100 hours working on the parts of the competition."
The Kansas State University team was among eight finalists selected after a nationwide competition in which all teams prepared a written financial plan for hypothetical clients. At the finals, the teams orally presented their case studies and participated in the "How Do You Know?" Challenge.
"The personal financial planning team has once again shown that K-State's personal financial planning program is one of the top Certified Financial Planner Board of Standards registered programs in the country," said Kristy Archuleta, assistant professor and director of the personal financial planning program. "The program is housed in the School of Family Studies and Human Services where it offers a rigorous curriculum and holds high expectations for students who have a strong aptitude for financial matters and a passion for helping people."
William Paterson University placed first and the University of Akron placed second. The other five finalists competing were Texas Tech University, California State University Northridge, Ohio State University, University of Georgia and Utah Valley University.
The challenge is sponsored by the Financial Planning Association, Ameriprise Financial and the Certified Financial Planner Board of Standards.