April 22, 2016
Information session for 2016 common book selection on Thursday, April 28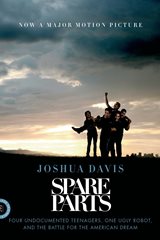 Wondering how you can incorporate the 2016 common book selection into your work with students this fall?
The K-State Book Network, or KSBN, will host an information session on Thursday, April 28, for faculty, staff, graduate teaching assistants and student leaders to discuss how Joshua Davis' "Spare Parts: Four Undocumented Teenagers, One Ugly Robot, and the Battle for the American Dream" can be part of coursework and event programming.
Tara Coleman, chair of the K-State Book Network, and other members of KSBN will share resources for Davis' book. Education, first-generation scholars, identity, immigration, creativity, entrepreneurship, community and leadership are just some of the issues raised by "Spare Parts."
The information session will take place from 11 a.m. to noon in 227 K-State Student Union. Participants are welcome stop by at any time during the hour to visit with members of KSBN. Refreshments will be served.
RSVP by April 27 for an opportunity to receive a copy of "Spare Parts" at the workshop.
For more information about Davis' book and about the K-State Book Network, visit the KSBN website. To request an examination copy of the 2016 selection to use for a class or program, contact ksbn@k-state.edu.