April 22, 2016
Kingery-Page and Nawre receive national excellence awards in landscape architecture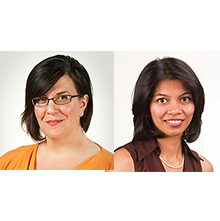 Katie Kingery-Page, associate professor, and Alpa Nawre, assistant professor, both of of landscape architecture, received national recognition from the Council of Educators in Landscape Architecture at its annual meeting in Salt Lake City, Utah.
Kingery-Page received the Excellence in Service Learning Award, junior level, for being an exceptional leader in landscape architecture service learning education. Nawre received the Excellence in Design Studio Teaching, junior level, in recognition for her ability to direct design studio projects that demonstrate outstanding quality and/or emphasize critical thinking and the creative process.
The professors were nominated in January by submission of separate nomination packets, which contained College of Architecture, Planning & Design faculty, project collaborators and student support letters.
Nawre's nomination package included a statement from landscape architecture master's student Beth Krehbiel. Krehbiel expressed appreciation of Nawre's focus on getting "students to think about scholarship as something we participate in, both in examining the existing literature and information, and seeking out our own understandings and discoveries. To me, it gives me the ability to ask better questions. And better questions open the door to better answers."
Nawre became an assistant professor in 2011 and teaches landscape architecture studios addressing the design of urban sites and systems as intermediate required studios and advanced elective studios. She has led two studios addressing the water systems of India, introducing students to opportunities and constraints of another culture's approach to water management.
"Research is at the heart of my approach to design studios," Nawre said. "I believe that research allows us to see things anew, reimagine the world, and develop compelling communication."
Kingery-Page began her career at K-State in 2007 and has led service-learning projects such as the K-State Meadow, Downtown Wichita Pop-Up Park and a landscape interpretation in Nicodemus.
"My students and I work with urban communities on everyday landscapes — schoolyards, streetscapes, temporary parks, and meadows — places that are part of the everyday fabric of lives," Kingery-Page said. "Rather than seeing these landscapes as mundane, we see them as possessing great potential to improve human experience, since they are experienced during daily routines."
Kingery-Page's nomination was supported by a statement from Caleb Melchior, 2014 master's graduate in landscape architecture, who said, "With Katie as my major professor during my graduate studies at Kansas State University, I had the opportunity to participate in strategic design interventions and plant installation at the K-State Meadow, a campus learning landscape which she designed and manages. Working on the Meadow, I was able to ground my research in application, while developing critical thinking and communication skills which continue to benefit me in design practice."