April 22, 2016
K-State McNair Scholars honored at annual ceremony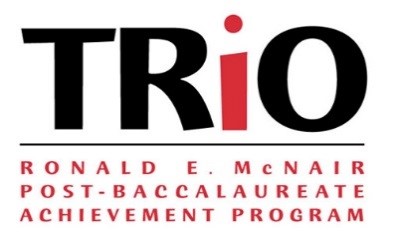 The McNair Scholars Program had its annual Scholars Recognition Banquet on April 18 to celebrate the accomplishments of its current scholars and past alumni who have achieved higher degrees. Students, alumni, faculty, staff, administrators, friends and family gathered in the K-State Student Union Ballroom for the celebration.
Twelve McNair Scholars were honored for having completed their research internships in summer 2015: Jose Covarrubias, biochemistry; Carolina Garcia, biology; Emmanuel Garcia, kinesiology; Zuleica Gerardo, parks management and conservation; Lucas Gorentz, mechanical engineering; Raymond Greer, criminology; Ka'Juan Moore, sociology and criminology; Jennifer Peelen, family studies and human services; Mayra Perez-Fajardo, bakery science and management; Matthew Reynolds, chemical engineering; Loren Taylor, family studies and human services; and Carlos Tupaz, computer engineering.
The new cohort of McNair Scholars, who will complete their research internships this summer, also were introduced: Benjamin Archibeque, physics and psychology; Tera Brandt, animal sciences; Tuesday Frasier, anthropology; Marcus Gilbert, art; Dorian Jester, social work; Hannah O'Neil, social work; Karen Palacios, anthropology and sociology; Alonso Peña, English and American ethnic studies; Baylee Porter, psychology and biology; Glen Riley, mechanical engineering and physics; Bianca Rodriguez, criminology and anthropology; Chelsea Sink, wildlife ecology and management; Claudia Tedoni, psychology and family studies and human services; Mark Williams, economics; and Amanda Woolley, horticulture.
The program recognized six K-State McNair alumni who recently earned a Master of Science: Crystal Aranda, American history at the University of Alabama; Donte Bernard, clinical psychology from the University of North Carolina, Chapel Hill; Tai-Wen Ko, electrical engineering from Kansas State University; Lindsay Worcester, botany from Oklahoma State University; Kelsie Doty, apparel and textiles from Kansas State University; and Angela Glean, kinesiology from Kansas State University. Elise Gaines Herrmann also was recognized for earning a Doctor of Audiology from Wichita State University.
Finally, four alumni received special recognition for fulfilling the ultimate goal of the program by earning doctorates.
Katie Clowers earned a doctorate in genetics at the University of Wisconsin, Madison. She is currently working on a postdoc at Havard Medical School in Boston, Massachusetts. During her time in the McNair Program, Clowers was mentored by Theodore Morgan.

Joseph Lancaster earned a doctorate in computer science at Kansas State University. He is currently a senior software developer at CABEM Technologies. Lancaster had two McNair mentors: Anindya Banerjee and Alley Stoughton.

Lorenza Lockett earned a doctorate at Kansas State University in family studies and

human services

, and is now a tenure track professor of social work at K-State. Lockett was mentored as a McNair Scholar by Farrell Webb.

NZinga Rasberry earned a doctorate in

international psychology

with a concentration in

organizations and systems

from the Chicago School of Professional Psychology. She was mentored in the McNair Program by Satoris Culbertson. Rasberry is currently working at the Nashville branch of HealthStream in the area of data collection.
The McNair Scholars Program is designed to prepare talented undergrads for graduate study. Scholars participate in undergraduate research under the leadership of a K-State faculty mentor, and receive guidance from the McNair staff in building skills needed to succeed in graduate school and in applying to graduate programs.
The McNair Program is currently in the beginning stages of the search for new scholars to enter the program in the fall semester of 2016. K-State faculty and staff are encouraged to submit the names of promising undergraduates interested in seeking advanced degrees to mcnair@k-state.edu.