October 13, 2014
Noted architect Scott Erdy to present lecture on Oct. 15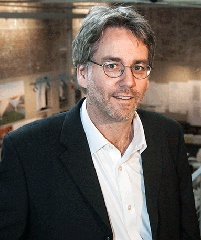 The architecture department of Kansas State University's College of Architecture, Planning & Design will host a lecture by Scott Erdy at 4 p.m. Wednesday, Oct. 15, in the K-State Student Union's Little Theatre. The lecture is free and the public is invited.
Erdy, a member of the American Institute of Architects, will present "nUrban," which focuses on solutions to economic pressures that promote isolation and discourage interaction between the building and its context.
Erdy is a partner of Erdy McHenry Architecture in Philadelphia. He has received numerous accolades from local and national press for his design work, including a September 2001 cover story in Architecture magazine that featured the Southern Poverty Law Center, and most recently — July 2013 — the cover of Architectural Record, highlighting the Cornell Teaching Dairy Barn.
Erdy's work has been recognized for its embodiment of cultural significance and utilitarian beauty. By deploying tactics that simultaneously reduce cost and enhance interaction, Erdy McHenry Architecture's work proposes new models for urban engagements and social synergy. Their solutions-based approach to design elevates place and celebrates function, while extending the boundaries of urban interaction.
Educated in the modernist tradition, Erdy and McHenry are creating an economical, digitally driven method of construction, which embraces the purity of material tectonics while revealing the positive aesthetic of space. Erdy McHenry's philosophy is to ensure engagement with each site and to embody a local context and sense of purpose within each design. Every project presents enormous opportunities for a site to express its sense of place and purpose, to strengthen relationships within its surrounding community, and to delineate a path for a better quality of urban life.