October 13, 2014
Lou Douglas Lecture Series to discuss business responsibility Oct. 14
Submitted by Communications and Marketing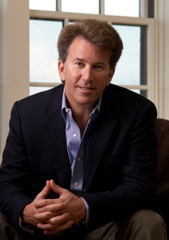 Jeffrey Hollender, social entrepreneur and co-founder of Seventh Generation, will present "The Responsibility Revolution and the Future of Business" at 7 p.m. Tuesday, Oct. 14, in Forum Hall at the K-State Student Union.
Hollender's lecture is part of the fall 2014 Lou Douglas Lecture Series on Public Issues at Kansas State University. The lecture series is sponsored by UFM Community Learning Center.
"Attendees of the lecture will have a unique opportunity to hear from one of the world's foremost social entrepreneurs who pioneered the practice of corporate responsibility," said Diane Swanson, professor of management and founding chair of the Business Ethics Education Initiative. "Given the new state charter for the benefit or triple bottom line corporation, Hollender's ideas will continue to shape the corporate responsibility movement in the U.S. and elsewhere."
Hollender is a social entrepreneur, author, speaker and consultant. His book, "The Responsibility Revolution: How the Next Generation of Businesses Will Win," encourages readers to change the negative impact that industry has on the environment. His best-selling book, "How to Make the World a Better Place, a Beginner's Guide," encourages consumers to make green and ethical product choices. He is an adjunct professor at New York University, co-chair of Greenpeace U.S.; board member of Practice Green Health, Healthcare Without Harm and Verite, an international workers' rights organization; and co-founder of the American Sustainable Business Council. Hollender's lecture is co-sponsored by the College of Business Administration's Ethics Education Initiative and the Provost's Education Excellence Fund.
An extended question-and-answer period and book signing will follow the lecture.
The Lou Douglas Lecture Series is dedicated to Douglas, who was a distinguished professor of political science at Kansas State University from 1949 until 1977. Widely known for his power to inspire students, faculty, staff and citizens to instigate change, Douglas was one of the founders of UFM Community Learning Center. After his death in 1979, UFM began the lecture series to honor him.