October 13, 2014
Geographer's research recognized by Mexican municipal government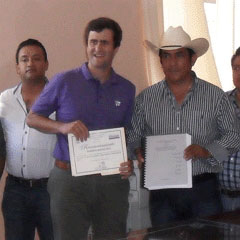 Andrew Hilburn, visiting assistant professor of geography, presented the results and formally handed over his doctoral dissertation to the municipal president of the Municipio of Coxcatlán, Puebla, Mexico, in summer 2014. His research, "Garbage, Society, and Environment in a Rural Mexican Municipio: The case of Coxcatlán, Puebla, Mexico," examines the practice of garbage management and its construction as a set of environmental issues across the aforementioned municipio.
Based on more than 10 months of onsite fieldwork funded by a U.S. Department of Education Fulbright-Hays Fellowship, the work employed a mixed-methods approach using a household garbage census, a Q-method study, a risk mapping survey, and a litter quantification and classification study. Results provided a more complete picture of garbage governance, society and the environment beyond simplistic garbage generation, public health risks, and environmental degradation discourse.
For his efforts, the municipal government awarded Hilburn with a commemorative sculpture and certificate of recognition.