November 20, 2023
Derby honored with endowed recognition in engineering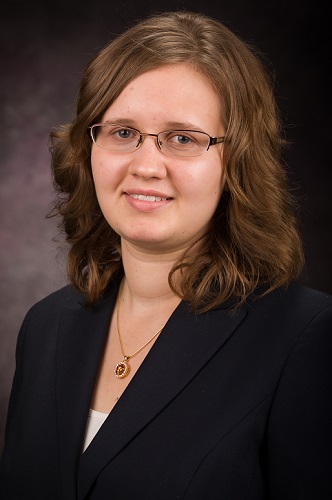 Melanie Derby, associate professor in the Alan Levin Department of Mechanical and Nuclear Engineering, has been appointed the Dr. Charles E. Wilson chair in engineering at Kansas State University.
The five-year appointment designates Derby as a highly regarded K-State educator and researcher and carries annual funding to support research assistants, travel, equipment or other expenses related to the endowed position.
Derby received her bachelor's degree in mechanical engineering from Rensselaer Polytechnic Institute in 2008. She then joined an Office of Naval Research-sponsored MURI project at RPI for graduate study, studying condensation heat transfer. She received her master's in 2010 and doctorate in 2013. She joined the K-State faculty in fall 2013.
As director of the Cooling and Heating Innovation Lab, Derby's research focuses on technical problems in the thermal fluid sciences that have unanswered fundamental problems and applications to industry. Her areas of expertise include multiphase flows, phase change and building energy. She directs a team of talented and motivated graduate and undergraduate students at K-State, and her research group is conducting research on condensation heat transfer, oil-water flows, dehumidification, humidification and the effects of low humidity on building occupants.
The award was established by 2021 Carl R. Ice College of Engineering Hall of Fame inductee Charles E. Wilson. The award aims to help recruit and retain the highest quality faculty in the college. Wilson received three degrees from K-State, culminating in his doctorate in mechanical engineering in 1972, before embarking on a more than 45-year career as a nuclear engineer working in the nuclear weapons field.