November 20, 2023
Michelle Turvey-Welch recognized as Professor of the Week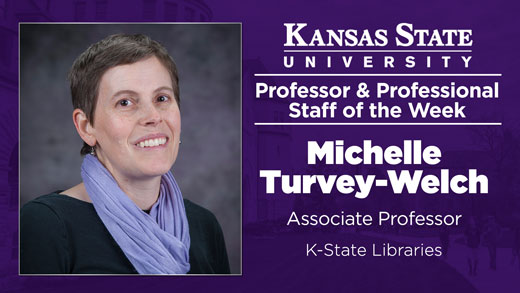 Michelle Turvey-Welch, associate professor and head of content development at Hale Library, was recognized as Professor of the Week at the Nov. 19 women's home basketball game. Faculty Senate, the Office of the President, K-State Athletics and the Division of Communications and Marketing wish to recognize her contributions to K-State.
Previous to this position, Turvey-Welch served in department head roles within K-State Libraries starting in 2010 and as interim associate dean for more than a year, demonstrating a capacity to manage a wide range of responsibilities.
Turvey-Welch has provided outstanding leadership to her team, in particular by fostering a positive culture as the staff processed materials after the 2018 fire and upon their return to Hale Library in 2022. She had a multiyear collaboration with the Belfor Property Restoration company and played a critical role in the efforts to save the 1.5 million volumes that were in Hale Library at the time of the 2018 fire. Her work was vital for the logistics, storage, cleaning and successful return of the collection.
Turvey-Welch currently provides leadership for the expenditure of the Libraries' collection budget and leads content negotiations for the many — and complex — license agreements for the Libraries' resources. She has shown herself to be an exceptional librarian through her achievements as a department head and as interim associate dean.
The success of K-State Libraries, and by extension the success of Kansas State University, would not occur without the commitment of leaders like Turvey-Welch.