May 1, 2023
Community visit spotlight: Textron Aviation enhances student experiences through workplace engagement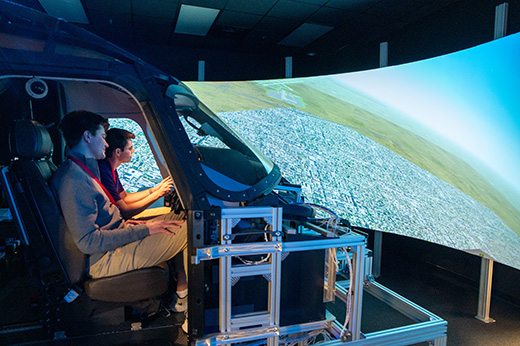 K-State engineering students explore the Textron Aviation flight simulators during the Sedgwick County community visit.
Student experience is a central component of Kansas State University's mission to inspire learning, discovery and engagement within and beyond the classroom. Student experience also has been a central piece of the presidential community visits, and many Connected 'Cats have led and connected with Kansas communities in a variety of ways.
Christopher Burrell, a Connected 'Cat and senior in mechanical engineering with a minor in leadership studies, was one of two Connected 'Cats featured in the Sedgwick County community visit for his meaningful ties to the community and his engaged-learning opportunity with K-State industry partner, Textron Aviation.
Textron Aviation is known for building some of the world's most iconic aircraft. For more than 95 years, the company has been inspiring the journey of flight with its Beechcraft, Cessna and Hawker brands and has been meeting the needs of government, military and commercial customers.
"The partnership between Textron Aviation and K-State has aided in my growth within my field of study because it supports programs like the Engineering Leadership and Innovation program, or ELI, which promotes leadership development and professional growth for everyone within the program," Burrell said.
University partnerships create a space for students to actively challenge themselves to tackle some of the greatest challenges in real-world time — sending the highest quality talent into the workforce upon graduation.
"Collaboration between Kansas State University and industry partners is significant as there are mutual interests in industry and academia working together on research initiatives, workforce recruiting and development of a talent pipeline," said Paul Snider, professor of practice in the Carl R. Ice College of Engineering.
According to Snider, collaborating with Textron Aviation through the ELI program intentionally supports student development, workforce recruiting, and one of the State of Kansas' University Engineering Initiative Act, or UEIA, goals, which is for engineering graduates to contribute to state and local economies by living and working in Kansas.
"Textron Aviation provides one-on-one mentoring of ELI student scholars through this program, thereby enriching the student's academic experiences and preparations for a professional career," Snider said.
Michele Gifford, director of human resources for Textron Aviation, said the multifaceted strategy relies heavily on university recruitment and applied learning to develop a world-class workforce.
According to Gifford, Textron Aviation is committed to partnering with K-12 schools, universities, colleges, technical schools and community organizations to increase exposure for youth and show them the many career opportunities available in the aviation industry.
"Our paid internships provide a meaningful work experience, where interns are introduced to a wide variety of opportunities for career development," Gifford said. "Interns are placed in challenging roles, receive professional training and have the chance to network with leaders and colleagues."
Gifford said many of the most senior leaders at Textron Aviation come up through the business and know the importance of being recognized and given opportunities. Burrell, who began his career with Textron Aviation first as a high school student and then as a college intern, exuded excitement and confidence at the Sedgwick County visit as he discussed building his legacy at Textron Aviation in the years to come.
"Textron Aviation is committed to developing the next generation of leaders who'll take our business and industry into the future," Gifford said. "We are proud of our longstanding relationship with K-State and applaud the university for the work it is doing to develop the next generation of innovators who will propel our communities and customers to new heights."
Explore K-State's regional community visits and engagement partnerships through our StoryMap or find complete information about regional community visits. K-State faculty, staff or students who are interested or currently immersed in university-community engagement work can contact the Office of Engagement for opportunities to begin or grow scholarly work.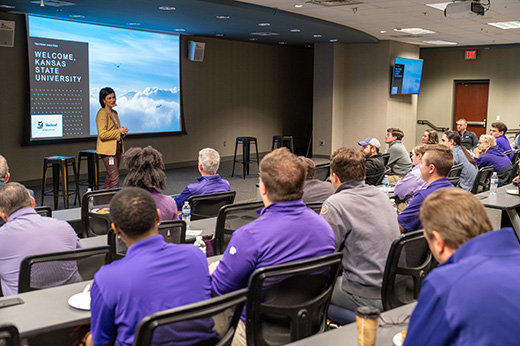 Rachel Douglass, senior manager of employee and community engagement at Textron Aviation, leads a discussion with Textron Aviation engineers and the K-State team during the Sedgwick County community visit. A group of about 30 Carl R. Ice College of Engineering students and faculty traveled down with Dean Matthew O'Keefe to participate in additional activities with Textron Aviation as part of National Engineers Week.