March 13, 2023
Sustainable Intensification Innovation Lab initiative announces enrollment of students at Haitian universities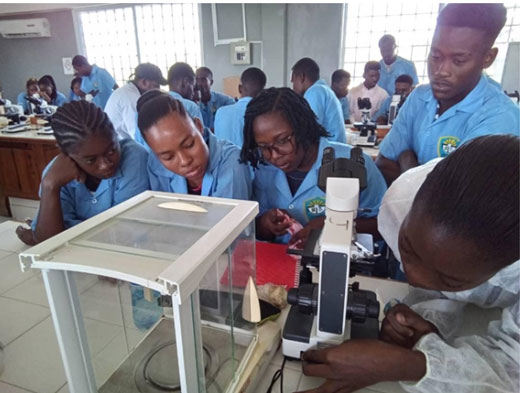 The first cohort of HAUP-CEMARCH undergraduate students in the agricultural sciences started their training at University Notre Dame d'Haiti of Les Cayes in January, 2023. Photo credit: University Notre Dame d'Haiti.
Through the support and leadership of the United State Agency for International Development, or USAID, and the Feed the Future Innovation Lab for Sustainable Intensification, or SIIL, at Kansas State University, the Haiti Agricultural University Partnership: Center for Mitigation, Adaptation, and Resilience to Climate-Change in Haiti, or HAUP-CEMARCH, project provides educational opportunities for students to pursue a Bachelor of Science degree in agricultural sciences.
University Notre Dame d'Haiti and Campus Henry Christophe de Limonade, or CHCL-Limonade, are two of six Haitian universities in the project. Both universities offer scholarships to students through the HAUP-CEMARCH program.
Notre Dame d'Haiti was founded in 1995 by the Episcopal Conference of Haiti. This project will work with the Les Cayes campus, which offers Bachelor of Science degrees in Natural Resource Management and Crop Production.
"Thanks to the support of this project, University Notre d'Haiti of les Cayes has been able to increase undergraduate student enrollment in the agricultural sciences by 20 students," said Father Pierre Pascal Pierre, executive vice-rector of Université Notre Dame d'Haiti of Les Cayes.
In addition to the increase in students, funding from HAUP-CEMARCH will also support a renovated agricultural technology park at Notre Dame, where students will conduct research projects.
Hérissé Guirand, president of CHCL-Limonade, working with his administration and faculty, was able to increase Bachelor of Science enrollment in agricultural sciences to 90 students, ​​an increase of 30 students, thanks to the support of the HAUP-CEMARCH project. Additionally, the project will fund a new agricultural technology park that will be located ​​next to the campus and will showcase student research projects, host new research projects and serve as a site for extension and teaching activities for the surrounding community.
In January 2023, new students started attending classes at the university. They will also conduct research projects aligned with their major, also supported by the HAUP-CEMRACH initiative.
Réginald Toussaint, USAID AOR for the project; Absalon Pierre, chief of party for the project; and Elizabeth Guertal, project director, will all work with CHCL-Limonade to start the various projects. Since the implementation of the HAUP-CEMARCH project on Oct. 1, 2021, these Bahelor of Science classes and other research and extension efforts will ensure the total success of the initiative.