January 23, 2023
Letter from Rana Johnson, vice president for diversity, equity, inclusion and belonging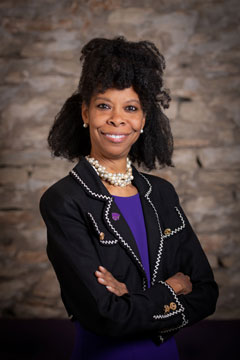 Greetings from the Office of Diversity, Equity, Inclusion and Belonging — Happy New Year!
I began my tenure as the inaugural vice president on Dec. 1, 2022. I am honored and humbled to be a servant leader at Kansas State University, the nation's first operational land-grant university. K-State was created to improve the quality of life of all Kansans through coursework, research and community outreach. Similarly, I look forward to working with President Richard Linton, members of the cabinet, students, administrators, faculty, staff, alumni and community stakeholders to advance DEIB at K-State and across the commonwealth.
Kansas State University is equipped to empower our students, and future alumni, to become global citizens with a framework of inclusivity, equity and social justice.
During my first 30 days, I engaged administrators, faculty and staff in discussions related to DEIB, their visions, concerns and prospective opportunities. This spring I look forward to meeting with students, groups and organizations, as well as deans, department chairs, faculty and staff to continue our dialogue.
I am excited and look forward to working with all members of our academic communities: Global, Manhattan, Olathe and Salina, as well as our community partners, collaborators and prospective supporters. I will work diligently, alongside my colleagues, to ensure that all members of the K-State Wildcat family see themselves reflected in the makeup of the student body, as well as the workforce.
Your comments, feedback, reflections and suggestions related to DEIB initiatives are appreciated and welcomed. I trust that if we have not yet had an opportunity to meet, our paths will cross soon.
Welcome to the spring 2023 semester!
In community,
Rana Johnson, Ph.D.
Vice President for Diversity, Equity, Inclusion and Belonging