January 23, 2023
McCammant and Ireton recognized as Professional Staff and Professor of the Week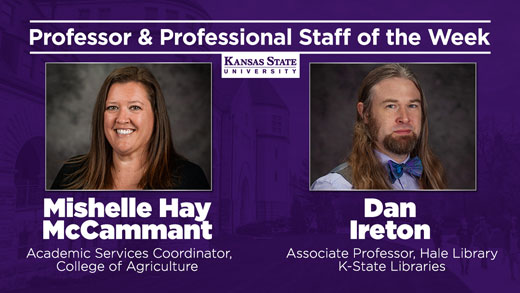 Mishelle Hay McCammant, academic services coordinator in the College of Agriculture's Academic Programs, and Daniel Ireton, associate professor at Hale Library, were recognized as the Professional Staff and Professor of the Week at the Jan. 21 men's home basketball game.
Faculty Senate, the Office of the President, K-State Athletics and the Division of Communications and Marketing wish to recognize their contributions to K-State.
McCammant has served students and faculty in the College of Agriculture for more than 20 years. She is an invaluable asset, ensuring that students fulfill degree requirements and graduate on time. She does this by working with faculty in curriculum development and in reviewing student records and graduation applications. She knows academic policy as well as anyone on campus and pays incredible attention to detail. She is a master of training faculty accordingly and ensuring that agriculture programs are compliant with all pertinent policies. McCammant is currently the co-chair of Professional Staff Affairs, which also puts her in leadership meetings and on the Executive Committee of Faculty Senate.
McCammant, a champion for students, has served as a club advisor for 12 years, developing international experiences for faculty-led study abroad experiences, ensuring that programmatic decisions in the college align with pertinent policies and are student-friendly, and helping to identify issues promptly so students graduate on time. She is an advocate for faculty and staff, nominating both for a variety of awards, speaking up for staff on a variety of issues through her involvement on Professional Staff Affairs, and facilitating professional development activities for faculty. McCammant works tirelessly to support the academic mission of the university.
Ireton is a librarian on the arts, humanities and design team. He works with many departments, including philosophy, political science, security studies, military science, and theater and dance. He also coordinates many outreach activities and works with military-connected communities. He is known for his creativity and dedication to patrons and colleagues alike. He is a proponent of game-based education and is well known for his work with gaming events. He co-coordinated the Peer Research Consultants and coordinated the personal librarian program for McNair scholars.
Ireton has many service activities at the university. He served as the 2021-2022 chair of the Libraries Faculty and Professional Staff. He also served as the co-chair of the Faculty Senate Committee on University Planning, the Classroom Planning Committee, and the Ad Hoc Committee on Social Justice, as well as serving as the parliamentarian for the K-State Faculty Senate. He is also active on the President's Committee on Religious, Spiritual and Nonreligious Diversity.
He has frequently presented nationally and internationally, including several presentations at the European Conference on Information Literacy. He has published and presented frequently on topics including popular culture, accessibility and gaming.