'Dragons and Mythical Beasts' interactive family show comes to McCain Performance Series
Monday, Jan. 23, 2023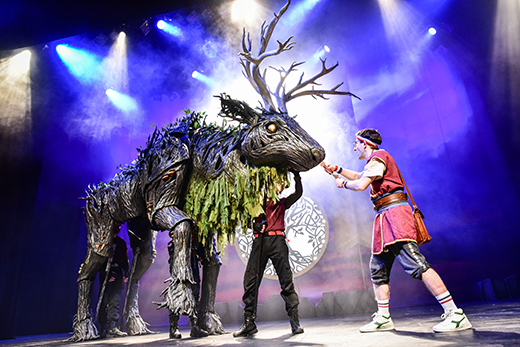 The McCain Performance Series presents "Dragons and Mythical Beasts," an interactive, family-friendly show, at 7 p.m. Tuesday, Feb. 7, in McCain Auditorium. Tickets are available now. | Download this photo.
MANHATTAN — The 2022-2023 McCain Performance Series hosts its first family-friendly show of the spring season, "Dragons and Mythical Beasts," at 7 p.m. Tuesday, Feb. 7, in Kansas State University's McCain Auditorium.
Enter a magical world of myths and legends in this fantastical new interactive show for everyone in the family. Unveil a myriad of secrets by coming face to face with some of the most magnificent monsters and terrifying beasts ever to walk the earth. Audiences will discover the colossal stone troll, the mysterious indrik and Japanese Baku, the tooth fairy, an adorable unicorn and the majestic griffin. Kids can take their place among legendary heroes, but they should take care not to wake the dragon!
"Dragons and Mythical Beasts" is from the same creators of the West End show "Dinosaur World Live," who bring spectacular puppets to life.
Tickets are available online at mccain.k-state.edu or at the ticket office in the newly expanded McCain lobby from noon to 4 p.m. Wednesday through Friday. Tickets are also available by phone, 785-532-6428, during the same hours. Kids 17 and younger get 50% off the general price of admission.
For more information, email mccain@k-state.edu.