January 23, 2023
Tara Coleman awarded national I Love My Librarian Award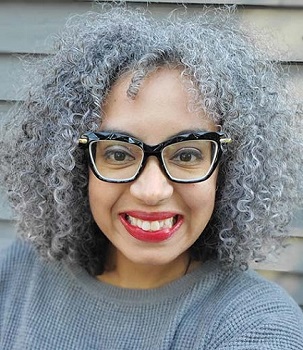 Kansas State University Libraries librarian Tara Coleman has been selected as one of this year's recipients of the American Library Association's I Love My Librarian Award.
The award recognizes just 10 academic, public and school librarians who were nominated by patrons in recognition for their expertise, dedication and impact on their surrounding community. Honorees receive a cash prize and will be formally recognized at an award ceremony during the association's LibLearnX event in New Orleans later this month.
Coleman, programming services coordinator, was nominated for her work in spearheading K-State's campuswide reading initiative, K-State First Book. The program has enhanced K-State culture since its start in 2010 and has grown to include events such as author talks, panel discussions and awards.
"Professor Coleman has transformed our campus culture with her love of books, her exceptional leadership skills and her focus on students," said Gregory Eiselein, professor of English at K-State and one of Coleman's nominators. "As the head of K-State First Book, she has been slowly but surely changing our campus for more than a decade."
In addition to her work with K-State First Book, Coleman also helps lead programming efforts for the Sunderland Foundation Innovation Lab and the Dow Center for Multicultural and Community Studies. Her efforts in these areas have led to partnerships with local schools and groups to help teach youth and community members about the impact of new technologies. Her work with the Dow Center has encouraged facilitated discussions about important topics, such as multicultural art, underserved populations and gender resilience.
"This is a wonderful recognition of Professor Coleman's commitment to excellence by providing valuable services to K-State and the wider community," said Dean of Libraries Joe Mocnik. "It is truly inspiring to see that her bold dedication to service has yielded national recognition of this magnitude."
Learn more about the I Love My Librarian Award at the American Library Association's website.