December 15, 2022
Kang receives national award for original research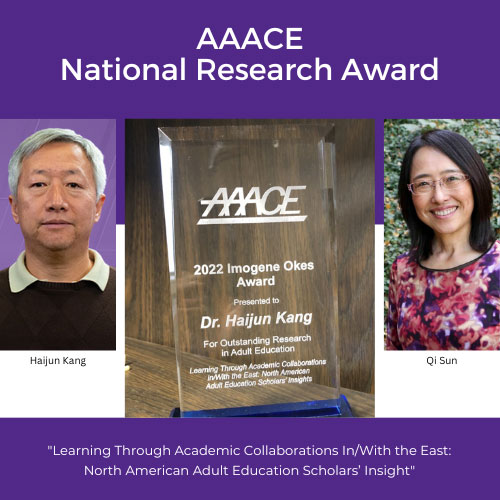 Haijun Kang, associate professor in the College of Education, has received a national award for outstanding and original research in the field of adult and continuing education from the American Association for Adult and Continuing Education, or AAACE.
Kang and co-author Qi Sun, associate professor at the University of Tennessee, were presented with the 2022 AAACE Imogene Okes Award for their research article "Learning Through Academic Collaborations In/With the East: North American Adult Education Scholars' Insight."
The national award recognizes researchers who significantly contribute to the advancement of adult and continuing education and honors the memory of Imogene Okes, whose reports on adult education participation have been widely quoted in the field.
"Collaboration is critically important to the field, but what it entails and how to develop long-term collaborations remain to be underresearched areas," Kang said. "In this study, we identified several underlying factors that were shared through six world-renowned North American adult and higher education scholars' decades of cross-cultural academic collaboration experiences. These underlying factors are not discipline-bound. Scholars, researchers and practitioners from all fields can capitalize on these factors to develop successful and sustainable collaborations."
Kang earned a master's degree in higher education from Tsinghua University in China and a dual-title doctorate in adult education and comparative and international education from Pennsylvania State University.
He teaches courses on adult learning theory, learning technology, program planning, social media and digital leadership development in the College of Education. His research is evidence-based and focuses on the use of technology, the arts and the science of learning design and analytics to empower people working in and with global adult education communities.

Example research studies he has conducted include the use of eye tracking technology and immersive learning technology to inform online learning design, the exploration of best practices of cross-culture and cross-institutional research and scholarship collaborations, among others. He has published in premier international journals, including the Journal of Transformative Education, Adult Education Quarterly, the American Journal of Distance Education, Australia's Distance Education and the United Kingdom's Open Learning: The Journal of Open, Distance and e-Learning, etc. He has guest-edited several special journal issues.
Kang has also provided leadership services and scholarships at several national and international associations, including the AAACE Commission of Professors of Adult Education and the Comparative and International Education Society. Kang currently serves as the co-chair of the Information Communication Technologies for Development special interest group at the Comparative and International Education Society and has recently been reelected as the co-chair of the society's special interest group oversight committee after serving on this committee three years ago.