October 20, 2022
College of Business recognizes Jeff Gates, hosts ribbon-cutting ceremony for Shamrock Success Center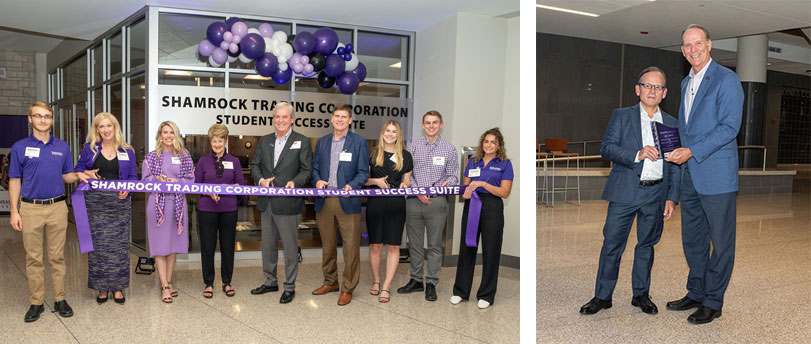 The Kansas State University College of Business and the KSU Foundation hosted the second Evening of Gratitude on Sept. 30. Alumni and friends who have supported the college gathered to enjoy live music and refreshments and celebrate the impact of their philanthropy.
One of the night's highlights was the recognition of Jeff Gates, managing partner of Gates Capital Management, as the 2022 Distinguished Business Leader of the Year and his induction into the college's Business Leaders Hall of Fame. Individuals selected to receive this award exemplify the outstanding qualities of business leadership that the college strives to develop in its students. These leaders purposefully invest their time, treasure and talent to advance the goals and objectives of the college and K-State.
Originally from Derby, Gates earned a Bachelor of Science in finance from the College of Business in 1984 and began his career as a high-yield bond research analyst. He earned a Master of Business Administration at the Wharton School at the University of Pennsylvania and went on to work at Schroder & Co. in high-yield sales and eventually served as a director.
In 1996 he founded Gates Capital Management, a New York-based event-driven alternative asset management firm that advises on a family of funds for global institutional and private clients.
For many years, Gates has hosted K-State finance students during an annual trip to New York City. The group explores firsthand how high finance operates and the trip provides many unique networking opportunities.
"I am privileged to present Jeff with the 2022 College of Business Distinguished Business Leaders Award," said Kevin Gwinner, Edgerley family dean of the college. "He is one of our most successful alumni and among our most caring and trusted friends. Whether he's hosting students in New York or supporting them through one of the activities he sponsors, his and his husband's generosity and dedication to the College of Business and our students make a tremendous impact."
On campus, Gates' generosity enhances students' real-world knowledge through the Gates Capital Management Stock Pitch Challenge, coordinated by the finance department. The stock pitch challenge creates campuswide interest in stock investing and encourages students to further develop their stock analysis skills. Additionally, the Gates Capital Management Speaker Series brings experts in various finance-related careers to campus.
Gates and Justin Bousseau '96, managing partner at Gates Capital Management, recently gave $3 million to create the Gates Capital Management Center for Financial Analysis in the College of Business. The center houses the K-State Finance Scholars program, a selective and innovative program that serves top finance students who have an interest in investment management.
To view past recipients or learn more about the College of Business Distinguished Business Leader Award or the Hall of Fame, visit cba.k-state.edu/alumni-partners/honoring-alumni-and-friends/.
Another highlight of the night was the ribbon-cutting ceremony for the Shamrock Student Success Suite, provided through a $1 million gift from Shamrock Trading Corporation. Shamrock is a leader in trucking logistics and a parent company for a family of brands in transportation services, finance and technology. Th company's gift names what was known as the Student Success Center to the Shamrock Student Success Suite and establishes an endowment to sustain the National Strategic Selling Institute.
The Shamrock Student Success Suite provides an academic and career hub for business students to meet with academic advisors and career coaches to outline programs of study, achieve their academic goals and plan for their future career success. The suite also houses the college's diversity, equity, inclusion and belonging program, which builds cultural community and enhances cultural competencies.
"In 2021-2022, Shamrock Trading hired more College of Business graduates from K-State than any other employer," Gwinner said. "Shamrock's investment in business students is an extension of what they do so well in their business model: They value people and seek to provide those people opportunities for success. Shamrock Trading is a tremendous corporate partner and this gift will continue to strengthen our relationship. In naming the Shamrock Student Success Suite for the next five years, Shamrock is creating a perpetual endowment benefiting the National Strategic Selling Institute and expanding opportunities and experiences for business students."