October 20, 2022
Music of The Go-Go's featured in 'Head Over Heels' Oct. 20-30
Submitted by Jerry Jay Cranford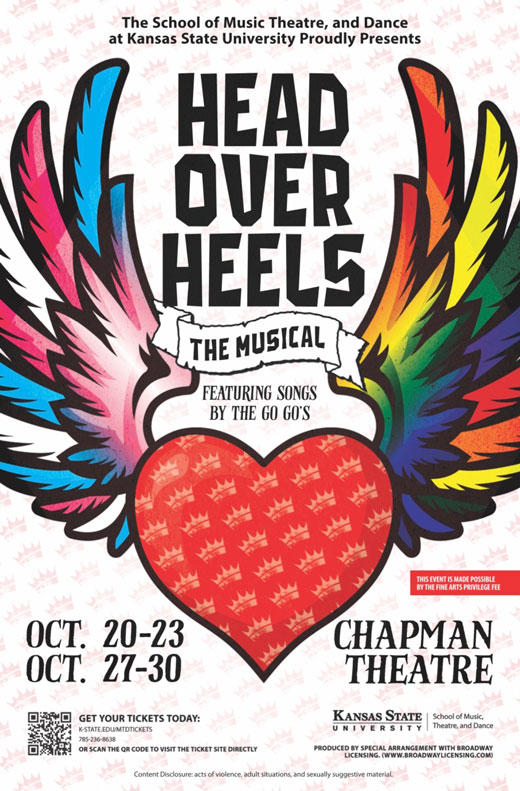 The K-State School of Music, Theatre, and Dance opens the musical "Head Over Heels" on Thursday, Oct. 20, and performing through Sunday, Oct. 30. Catch a bit of the music at 12:30 p.m. Thursday, Oct. 20, in the K-State Student Union.
The all-girl group The Go-Go's formed in Los Angeles in 1978 and was an instant hit. From 1981-1983, the group's music catalog exploded onto the radio stations, creating numerous Top 10 hits featured in "Head Over Heels": "Our Lips are Sealed," "Mad About You," "Heaven is a Place on Earth," We Got the Beat" and of course, "Head Over Heels." The musical had a modest Broadway run from 2018 to 2019, garnering Outer Critics Circle and Drama League Award nominations.
Jerry Jay Cranford, director, choreographer and associate professor of theatre, is leaning into the 80s feel of the music with all design and dance elements.
"I want each musical number to feel like a 1980s MTV music video," Cranford said.
Dana Pinkston, costume designer and associate professor, is creating looks that suggest Madonna, "Dynasty," Adam Ant, Pat Benatar, Strawberry Switchblade, and yes, The Go-Go's. Kathy Voecks, associate professor and K-State's scenic designer and scenic painting specialist, was inspired by her research on The Memphis Group and Tiruvannamalai, India, to create the 80s color palette and design for the production being constructed in the theatre shop with Ben Stark, professor and technical director, and George Wame Matthews, scene shop supervisor, along with students. Students are also designing and creating numerous props and have studied puppetry to create a few of the fun elements in the script.
The story revolves around the kingdom of Arcadia known for its glorious beat that keeps all things in order. Basilius the King, who is unwilling to accept the changing times, has ignored his kingdom and the beat. Ultimately, Basilius loses everything and a new ruler must be crowned to restore the beat.
"The production should have you dancing, laughing, singing and leaving with your own new beat," Cranford said. "It's like a Disney animated feature but with adult themes ... a big, bright 80s-themed party."
Student Jackson Berland who plays Basilius, describes it as a mix of Rocky Horror and Mamma Mia.
While a comedy, this production is rated PG-14 and contains acts of violence, adult situations and sexually suggestive material.
Break out your day-glo shirts, fishnet gloves, leg warmers and neon scrunchies, then book your tickets at ksu.universitytickets.com/.