October 20, 2022
Pop-up photo exhibition explores history of Winfield State Hospital
Submitted by Chapman Center for Rural Studies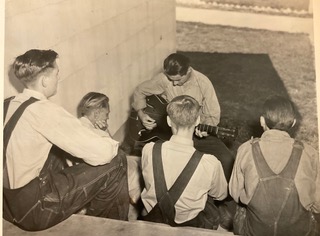 "Unsolved Histories: Uncovering the Lost Stories of Kansas' Mental Health Institutions" is a pop-up photo exhibition that will be on display from noon through 6 p.m. Tuesday, Oct. 25, at Winfield Public Library in Cowley County.
Curated by a team of K-State researchers, including Heather McCrae, associate professor of history, and Traci Brimhall, professor of English, the exhibition combines photos, stories and creative engagements to explore the complex history of the Winfield State Hospital.
The free event will invite community members to learn more about the people and stories of this institution, from its innovative art therapy program and meaningful collaborations with community members to its more fraught moments connected to early mental health practices.
"Our work to digitize the Cowley County archives with stories from the Winfield State School creates a connection between the history of Kansas mental health practices with the present," McCrea said.
"This work would not have been possible without the generous support of Interim Dean Chris Culbertson and the College of Arts and Sciences," said Mary Kohn, director of the Chapman Center for Rural Studies. "Our students, like Alex Partin, a Bachelor of Arts/ Master of Arts history and political science major, have been working tirelessly to assist the Cowley County Historical Society in digitizing and preserving their valuable archives. At the same time, this project represents a true collaboration as Drs. McCrae and Brimhall bring together community expertise and university resources to explore and preserve these stories."
For information on this event, visit wpl.org or contact chapmancenter@k-state.edu.