October 6, 2022
Pumpkin Patch Arts and Crafts Fair
Submitted by Alpha Delta Pi Sorority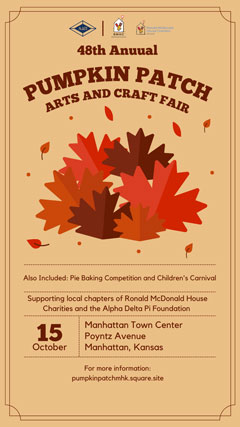 Join the women of Alpha Delta Pi, a registered independent student organization, at the 48th annual Pumpkin Patch Arts and Crafts Fair from 9 a.m. to 6 p.m. Saturday, Oct. 15, at Manhattan Town Center.
Visit the event to see what local vendors with homemade goods have to offer. All proceeds benefit local chapters of Ronald McDonald House Charities.
Additionally, a children's carnival and a pie-baking competition will be featured throughout the day.